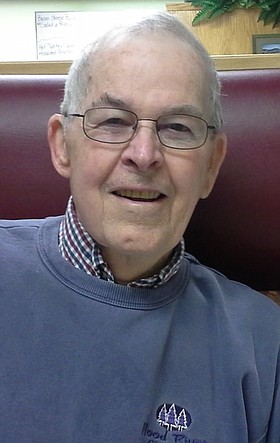 Theodore "Ted" William Perry
Hood River, Ore.
June 12, 1931 - September 29, 2017
Theodore William Perry, 86, passed away quietly and comfortably surrounded by his family on Sept. 29, 2017. Ted spent almost his entire life in Hood River, but was born Friedrich Wilhelm Otto Schaefer Jr. in Denver, Colo., on June 12, 1931. He lived his early life in many places since his mother, Ann (Fritter) Schaefer and father, Friedrich Schaefer, were wandering spirits.
Ted moved to Odell with his mother and stepfather, Clair O. Perry, right before he began high school in 1945. He was adopted by C.O. Perry and officially changed his name to Theodore Perry. He met Louise Plog when he was still a freshman at Odell High and they married in 1951 after being sweethearts that whole time. They were married for 60 years before Louise passed away in 2011.
Ted received his Bachelor of Science from Oregon State College in ag engineering. There, he was in Air Force ROTC and served two years in the Air Force after his graduation. His older daughter, Mary Lou, was born while they were stationed in South Dakota and his older son, Thad, was born in Spokane. Ted and Louise moved back to Hood River upon his discharge and he worked several years for the Soil Conservation Service. Daughter Candy was born in Hood River and youngest son, Denny, joined the family in 1962 — lovingly adopted with help from the Boys and Girls Aid Society in Portland.
Willard I. Johnson recruited Ted to work for the Hood River Electric Co-op. He worked there for 25 years, first as assistant manager and then as manager before retiring in 1986. After that, he helped run Columbia Photo with his son, Thad, and dabbled in real estate before retiring for good in 1993.
Ted, along with his first wife, Louise, volunteered for many things — even spending several years in Guatemala working for Habitat for Humanity. They were long time members of the Hood River Valley Christian Church. Ted helped with the food bank, crop walks, a zillion school projects with his children and also assisted in coaching baseball. He was always very involved with family and community activities, helping anyone and everyone.
Beginning with a simple watercolor class in college, Ted began a lifelong study in art. His artist's work ranged from watercolor paintings to drafting and drawing and to stained glass. He had an engineer's brain with a strong artistic sentiment.
He lived a physically active life beginning by lettering in basketball in high school. He summited mountains, including Hood and Adams. Ted waited until all his kids were skiers, then began that passion himself. He skied beautifully, looking as graceful and dynamic as Fred Astaire or Gene Kelly when they danced. Ted skied until he was 79, tickled pink that he got a free ski pass at Timbeline when he reached a "certain" age. He continued working out at the gym and walking a regular route until his health began to fail several years ago.
Ted found love again with Rosalie Beachman. They married in 2013 and enjoyed local travel and fun stuff in Hood River before his passing.
His parents, older sister Elizabeth, stepfather, and Louise Perry precede Ted in death. He is survived by Rosalie Beachman, Mary Lou Perry (Mosier), Thad Perry (Hood River), Candy (Jay) Wakamatsu (Virginia) and Denny Perry (San Diego). He had eight grandchildren and 11 (almost — one is on the way!) great-grandchildren.
All who knew him will miss Ted's startlingly blue eyes and witty sense of humor. In lieu of any other memorials, the family suggests a donation be made to Gorge Ecumenical Ministries. A memorial service will be held at the Mosier Grange on Saturday, Oct. 14 at 1 p.m.
Services for Theodore William Perry
October 14, 2017

Memorial service: 1 p.m.
Mosier Grange