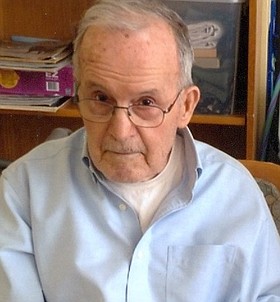 Dr. Warren B. Thompson
Hood River, Ore.
May 18, 1921 - October 2, 2017
Dr. Warren B. Thompson died Monday, Oct. 2, 2017, at the age of 96. He had been a resident of Hood River, Ore., since 1947. Dr. Thompson was born in Gold Hill, Ore., and grew up in Ashland, Ore. Upon high school graduation, he attended two years at Southern Oregon College in Ashland and then transferred to University of Oregon, where he graduated. He then attended University of Oregon medical school. While in medical school, he met and married Marjorie Coe, a nursing student. They had two children, John and Linda.
After medical training, he joined the army and served two years in Germany. When he was discharged in 1947, he returned to Oregon, where he and Marge set up his medical practice in Hood River. At the time, he was one of five doctors.
During his medical career in Hood River, he served as chief of staff for the hospital four different times. He also served on the school board.
When not caring for patients, Dr. Thompson could be found fly-fishing, skiing, playing tennis or badminton. He also loved spending time in his greenhouse, tending his multitude of orchids.
Dr. Thompson is survived by his wife of 72 years, Marge, daughter Linda, two granddaughters, Jennifer and Laura, and five great-grandchildren.
Arrangements are under the direction of Anderson's Tribute Center (Funerals • Receptions • Cremations), 1401 Belmont Ave., Hood River. Visit www. AndersonsTributeCenter.com to leave a note of condolence for the family.