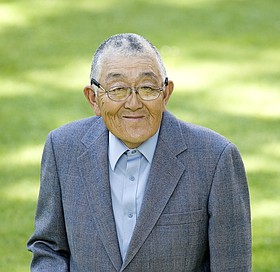 Mitsuo "George" Watanabe
August 29, 1925 - October 17, 2017
Mitsuo "George" Watanabe, 92, passed away on Oct. 17, 2017, at his home surrounded by family. George was born Aug. 29, 1925, to Ryusuke "Roy" and Sen Watanabe in Hood River, Ore. Just after the turn of the century, George's father immigrated to the United States from Odawara, Japan, and eventually purchased property in the Hood River Valley, where he cleared the land and planted strawberries, asparagus, and fruit trees. George was raised and lived most of his life on this farm.
As a youth, George and his older sister, Bessie, harvested asparagus before and after school. They also assembled wooden boxes that various produce was placed in. Both children attended Odell Grade School; they reached school often by walking.
With the outbreak of World War II and Executive Order 9066, George's family, along with the other Nikkei from Hood River, left the valley on May 13, 1942. Their destination was the Pinedale Assembly Center in northern California (which is now recognized as a temporary detention center), although they did not know where they were going. After a two month stay, they were transferred to Tule Lake internment camp, one of 10 federal sites for housing Americans of Japanese descent. In September 1943, the family was transferred to the Heart Mountain Relocation Center in Wyoming after loyalty questionnaires were administered in the camps. George would complete his high school education at Heart Mountain. The family returned to Hood River in 1945. George's father was fortunate to have secured a legal agreement for the family farm prior to their departure; in this way they did not lose the property during their internment. George rarely talked about this time in his life unless specifically questioned.
Throughout his entire life, he was a second-generation orchardist and worked the family farm growing apples, cherries, and pears. In his youth he harvested asparagus and strawberries, which were planted between the young and growing fruit trees. George was a member of Diamond Fruit Growers, Inc. He was mechanically skilled and very practical. For approximately 50 years, he mentored agricultural trainees, mostly from Japan or Brazil through the International Farmers Aid Association or the Japanese Agricultural Trainee Program.
He had a few hobbies such as fishing, hunting for Pine mushrooms (Matsutake), photography, traveling, and perhaps farm equipment and tractors. For several years, he served as the treasurer for the local Boy Scouts Troop 378 and was a member of the Japanese American Citizens League.
On May 28, 1955, George married Chiyoko Nagaki of Ontario, Ore., at the Asbury United Methodist Church in Hood River. He and Chiyoko raised two children, Marleen and Neil. George was always devoted to his parents, family, and farm.
In his later years, he enjoyed traveling and visited various parts of South America, Europe, and Australia. He suffered a stroke in 2007, but that did not prevent him from participating in trips to Japan (2007), Alaska (2008), Washington, D.C., and New York (2012), Disney World (2013), the New England states and the St. Lawrence River of Canada, Quebec, Nova Scotia (2014), and Las Vegas (2016).
George is survived by his wife of 62 years, Chiyoko, and children Marleen (Atsuhito Miboro) and Neil, and grandchildren Kouhei Miboro and Natsumi Miboro. He will be missed. George also leaves behind his sister, Bessie Asai, and many nieces and nephews. He was preceded in death by his parents, Ryusuke (1958) and Sen Watanabe (1976), and older brother Katsumi (1925).
Remembrances may be made to the Boy Scouts of America, Providence Hospice of the Gorge, or Wounded Warrior Project.
The family would like to acknowledge all the business acquaintances that have worked with George over the years. Gratitude is also extended to the many healthcare providers and organizations that have provided care from the beginning through his passing. Finally, a very special thank you to the many family and friends that have been a part of George's life. Your friendship, generosity, and support over these past 92 years goes beyond words. Thank you.
A viewing will be held from 4-7 p.m. on Thursday, Oct. 26, and a service at 11 a.m. on Friday, Oct. 27, both at Anderson's Tribute Center. A reception will follow the service. Interment will be at Idlewilde Cemetery, 980 Tucker Road, Hood River.
Arrangements are under the direction of Anderson's Tribute Center (Funerals • Receptions • Cremations), 1401 Belmont Ave., Hood River.
Visit www. AndersonsTributeCenter.com to leave a note of condolence for the family.
Services for Mitsuo Watanabe
October 26, 2017

Viewing: 4 p.m. to 7 p.m.
Anderson's Tribute Center

October 27, 2017

Memorial service: 11 a.m.
Anderson's Tribute Center