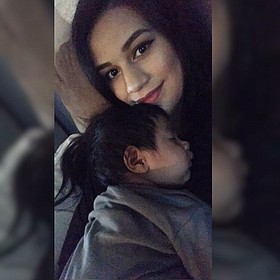 Aileen "Julie" Julissa Pineda-Garcia
Hood River, Ore.
April 24, 1999 - October 22, 2017
Aileen "Julie" Julissa Pineda-Garcia was born on April 24, 1999, in Hood River, Ore., to Eulogio Pineda-Arzate and Maria Del Carmen Garcia-Toscano. She was the youngest of six children.
Aileen was born and raised in Hood River; she was known to be very friendly and personable. She had made many friendships throughout her academic career. She was loved by her teachers and peers. Aileen then graduated from Hood River Valley High School in 2017. Afterwards, she pursued a position at Hawk's Ridge Assisted Living Facility as a dietary aide and cook. She was a hard, dedicated worker. It was there that she found a passion for helping others. She wanted to share that passion and was planning on furthering her higher education by going to college this upcoming winter.
Aileen had a three-month-old son, Matteo Ace Pineda, and always strived to be the best mother she could be. You could always find her with a smile on her face, and a happy heart. She was a very positive person and was filled with life. Her positive presence was always noted by others. She had recently made her home in The Dalles, Ore.
Aileen passed away in a tragic car accident along I-84, close to Rowena, on Oct. 22, 2017. She was only 18 years of age the time of her passing.
Aileen is survived by her son, Matteo Ace; parents, Eulogio and Maria Del Carmen; siblings Elias Gonzalez (wife Lola), Vivi Cernas, Jose Cernas, Gabriela Pineda-Garcia, and Lily Garcia; nephews Freddy and Maxemilio Coronado; and niece Adalynn Guerrero.
A GoFundMe page has been set up to assist Julie's family with funeral expenses: www. gofundme.com/ aileen-j-pinedagarcia.
Services were held Monday, Oct. 30. Arrangements are under the direction of Anderson's Tribute Center (Funerals • Receptions • Cremations), 1401 Belmont Ave., Hood River. Visit www.AndersonsTributeCenter.com to leave a note of condolence for the family.