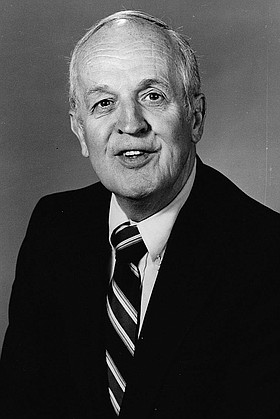 John Dayton McLucas Jr.
San Rafael, Calif.
April 15, 1925 - October 22, 2017
John Dayton McLucas Jr. of San Rafael, Calif., passed away on Oct. 22, 2017. John was born in Hood River, Ore., on April 15, 1925, to DeForest (Gould) and John Dayton McLucas.
While attending Hood River High School, a favorite summer job was as a fire watch in the Mt. Hood National Forest. John interrupted his schooling and joined the U.S. Navy in 1943 at 17, serving almost three years in the South Pacific as a communications specialist. He returned from the war and graduated from Hood River High School in May 1946, and then started at Oregon State College (now OSU) in Corvallis.
John was an early member of the Alpinees, Inc., rescue group, joining in 1948. He graduated from Oregon State with a Bachelor of Science in Industrial Administration in 1950. After graduation, John commenced his career with Standard Oil Co. of California (now Chevron), but was immediately called up for active duty with the U.S. Navy in Hawaii and Washington, D.C.
Following his service during the Korean War, John continued with Standard Oil, transferring to their San Francisco head office in 1953. John was fortunate to meet Marjorie Anne Nevin in "The Lodge" boarding house, where they both lived. They married in 1954 and had three boys.
John continued serving in the U.S. Naval Reserve following the wars, eventually retiring as a lieutenant in 1966. His career with Standard Oil took the family to Anchorage, Alaska, in 1965, transferring back to the San Francisco Bay Area in 1971. John's career with Chevron spanned 35 years and he retired in 1985.
John was an active member of St. Mary's Episcopal Church in Anchorage and Church of the Nativity in Lucas Valley, Calif. John was a member of the American Legion, the U.S. Coast Guard Auxiliary, BayKeepers, and served as a Scoutmaster of Troop 64 in Lucas Valley.
John's favorite pastimes were travelling the world and gardening.
He leaves behind his wife Margie, sons John, James and Jeffrey, six grandchildren, a great-granddaughter, his sister Margaret (Peg) Tetlow, and numerous cousins, nieces and nephews. He was preceded in death by his sister Elizabeth (Betty) Stuart. Family services will be held in the future and John's ashes will remain near the places that were special to him: the Columbia River Gorge, Hood River and Mount Hood.