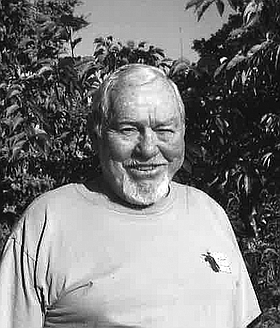 Deward "Dude" Leroy Cain
Hood River, Ore.
November 5, 1925 - September 2, 2017
Deward Leroy Cain, aka Dude, the first chief of police of Sun Valley, Idaho, was born on Nov. 5, 1925, in Warren, Idaho. He passed away Sept. 2, 2017, in Hood River, Ore.
Dude started at an early age serving and working for his country and his friends. He worked with the CCC, Civilian Conservation Corps, before he was able to convince his mother to lie about his age so he could join the U.S. Navy and serve our country in World War II.
After the war, he met his sister's best friend, Audrey Hustead. They did as other young couples did after the war: They got married and started a family.
Dude served as a deputy sheriff in Twin Falls, Idaho, and then went to work while raising daughter Pam and son Rick. In 1960, son Darrell was born. In 1963, Dude moved to Sun Valley ahead of the rest of his family. He went there with another fellow Idaho police officer, Guy Coles. The two of them became special agents for the company of Sun Valley. Then, in 1964, Audrey, Rick and Darrell joined him in the Sun Valley and Ketchum area; his daughter was now out on her own.
While he lived in Ketchum, he became an avid fisherman, and an above average golfer. He also dove into his artwork and became an accomplished painter. He loved the life he lived. Then, in 1972, Dude was given the opportunity to start the first police department of Sun Valley and be its chief. Dude had a reputation as a no-nonsense man, who interpreted the law fairly. He went out of his way to help the people in need, and made sure those who were up to no good paid the price. This is where he worked until he retired at the age of 62.
From there, Dude and his wife traveled the states in their RV, visiting family and loving Texas. They eventually moved to Hood River to be closer to family. Dude grew to love the fishing and golfing in Hood River, with new inspirations for his painting.
While Dude and Audrey enjoyed their life, their family grew. Pam and husband Selway Mulkey gave them three grandsons, who in turn gave Dude and Audrey four great-grandsons and two great-granddaughters. Rick and his wife Elise gave them one grandson.
In 2009, Audrey passed away, leaving Dude alone. He moved to a retirement home, Down Manor, and enjoyed his passions, fishing, golfing and his artwork. In 2016, he needed to move into assisted living at Hawks Ridge. He was still Dude, and as always, anyone who ever got to know him was touched by his sense of humor, along with his straight-shooting, no BS attitude. To know Dude was to love Dude. He was a one of a kind man. Dude was a member of Buhl golf course, Sun Valley and Elkhorn golf courses, Hood River Country Club and Indian Creek golf courses. The family will celebrate his life privately and asks that you tee one up for the Dude!
Dude passed away quietly from natural causes with the care of Hospice. Thank you, Hospice. Thank you, Hawks Ridge. Thank you to everyone who loved him.