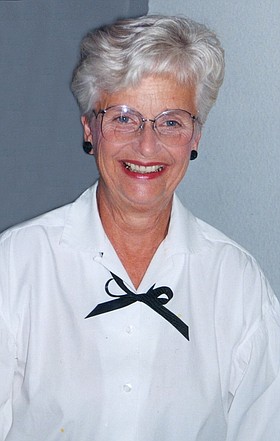 Doris "Dodie" Hilden
January 15, 1927 - September 22, 2017
Doris "Dodie" Hilden passed away on Sept. 22, 2017, in Hood River, Ore., at the age of 90.
Doris was born Jan. 15, 1927, in Tacoma, Wash., to Walter A. Hart and Vera M. (Clark) Hart. She was the younger sister to Frank Hart, who preceded her in death.
Dodie spent her childhood on Brown's Point near Tacoma, and moved to Seattle during the Depression, where her father took a job selling musical instruments and organizing bands around the state for the music store Sherman Clay. One day he brought her a clarinet, and she went on to become first chair and soloist in an all-city orchestra.
The family moved back to Tacoma when Dodie was in high school, and she graduated from Stadium High School. Upon graduation, Doris went on to Washington State University and majored in speech.
Dodie married Francis "Buz" Busby in Tacoma in 1950. He had been student body president, two years ahead of her at Stadium High School, but they didn't really meet until college.
Dodie worked at KTNT radio and TV in Tacoma. She co-hosted "Bob and Dodie's Kitchen Table," a talk show, on the radio. She also hosted her own cooking show and set a station record for receiving mail with her spaghetti sauce recipe.
She was very active for many years in the Tacoma Little Theater, holding numerous lead roles and directing shows. Another one of her passions was teaching Junior Theater at TLT.
When her children were born, she eventually stayed home, and was active in the Methodist church and became a Camp Fire Girl leader. Later in life, Dodie supported herself as a Shaklee supervisor.
Dodie and Buz had two children, Elaine E. (Busby) Thompson of Hood River and Douglas R. Busby of Oregon City, Ore. Dodie had one granddaughter, Allison R. Thompson, of Hood River, Oregon. However, Dodie considered Anna (Thompson) Allen, of Harrisburg, Oregon and Stephen C. Thompson, of Mountain Home, Idaho, her step-grandchildren, to be her own when they were being raised in Hood River.
Dodie was married three times. Her first husband, "Buz," died of muscular dystrophy in 1982. Her second husband, whom she married in 1987, was Olan "Kit" Carson, who preceded her in death in 1990. She married John G. Hilden in 1996. Dodie and John spent many years on the "Fidalgo" sailing in the U.S. and Canadian San Juan Islands. When Dodie's grandchild Allison was born, the two of them moved to Hood River. John passed away in 2004.
Dodie loved to garden, play bridge and tennis and to entertain on the holidays. She took her family on all-day hikes on Mount Rainier, and loved attending the Seattle opera and the Oregon Shakespearean Festival.
She died with great dignity and grace at Parkhurst House from complications due to dementia.
Memorial donations in her honor can be made to Riverside Community Church, 317 State St., Hood River, OR 97031, or Mason United Methodist Church of Tacoma, 2710 N Madison St., Tacoma, WA 98407.
Arrangements are under the direction of Anderson's Tribute Center (Funerals • Receptions • Cremations), 1401 Belmont Ave., Hood River. Visit www.AndersonsTributeCenter.com to leave a note of condolence for the family.