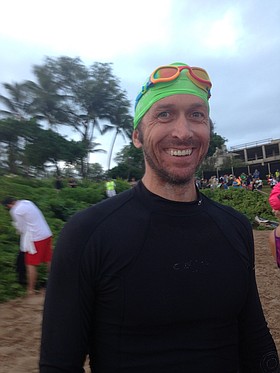 James George Ealer
Maui, Hawaii
September 19, 2017 - March 18, 1969
James George Ealer, 48, died peacefully in his sleep on Sept. 19, 2017, at his home on the slopes of Haleakala in Maui, Hawaii. He was born March 18, 1969, in Hunterdon, N.J. Jim led a rich and active life, filled with passion for his many interests and the many people that he loved, and whose lives he touched.
Jim was a sailor, a scholar, computer whiz, triathlete, and marathon runner who most recently focused his passions on aviation, earning his pilot's license just last year. He was a diligent employee and entrepreneur who earned the loyalty of his many clients over two decades in the information technology business. He loved animals, including cats, dogs, and most recently, a small pack of goats that he regularly called a "laugh riot." An avid traveler, with every step on his many journeys across the globe, he left the world a tangibly better place.
To his brothers John and Tim, he was, among many things, the most steadfast of souls — a rock — who could always be counted on, whether for advice, a kind word, a kick in the pants, a funny text, or just a smile.
To his parents George and Mary, Jim was a son who fulfilled all the promise they could have hoped for, living out many of their dreams.
To the love of his life, Karen Neitzel, Jim was her kindred soul. He brought her balance and his love expanded her view of the world and all its possibilities. Together they tackled life with a genuine love for each other and for everyone they met.
Jim was many things to many people, but through it all, he embodied a humility, generosity and kindness that is rare in this world. The sound of his kind footsteps will be dearly missed by all those whose lives he touched. But the memory of his spirit will live on in their hearts forever.
Jim is survived by his partner of 18 years Karen Neitzel, brothers Timothy and wife Sandy, John and wife Susan, mother Mary, nephew Chris and niece Katie. His father, George Ealer, passed away in 2013.
Karen is hosting a celebration of Jim's life at Jim and Karen's home in Hood River, Ore., on Saturday, Oct. 7 at 4 p.m. All friends are welcome.
Jim was a longtime supporter of the work done by the non-profit organization, Doctors Without Borders. In lieu of flowers, his family would appreciate donations made in Jim's name to Doctors Without Borders.
Services for James George Ealer
October 7, 2017

Celebration of Life: 4 p.m.
Hood River