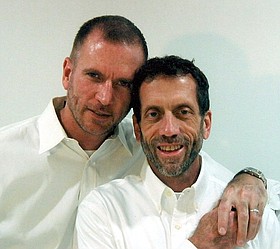 John Paul Wishart
Hood River, Ore.
January 30, 1960 - September 18, 2017
John Paul Wishart (Johnny to his spouse, Johnny Pop to so many friends) of Hood River, Ore., died Monday morning, Sept. 18, 2017, after a long, five-year, brave battle with the cancer Multiple Myeloma. John died peacefully at home in his own bed, held in his husband's arms, with his mother Camilla and sister Susie caressing his hands.
John was born on Jan. 30, 1960, in La Grande, Ore. His loving parents were Jim Wishart and Camilla Flesher Wishart, both graduates of Hood River High School.
John was the youngest of four children. During John's formative years, his father's work allowed the family to live in many smaller Oregon towns. John lived in Union, Heppner, Prairie City, and then back in Heppner, where he graduated high school.
John joined the Navy soon after completing high school, serving on the USS Detroit, which was part of the Atlantic fleet. John loved being at sea and serving in our Navy. He particularly enjoyed ports of call in the Mediterranean, with Naples being particularly a fond favorite for many reasons … not the least of which was the people and the food. John did not just put his toe in the waters of new experiences and exotic foods; he dove in and had the most amazingly broad palette and passion to try everything. He visited Israel and his ship passed through the recently reopened Suez Canal. The visible signs, along the canal, of the 1967 Arab-Israeli war, left an impression and strong memory with John. John not only liked serving in our Navy and being at sea, he loved to travel.
After his service, John moved to Chicago, where he began a career in fine upholstery. He credited his natural aptitude to his father, who, to relax from the stress of his career, would upholster and re-upholster the family sofa, but he also credits the training and his work in the Navy of sewing repairs in the forward sail locker.
John longed to return home and home for him was Hood River, where all his grandparents lived. His paternal grandparents had passed away when John was very young, but he was blessed to know his maternal grandparents very well. He loved and cared for them in their elder years, through their deaths, after they enjoyed a very long, successful and loving marriage.
John married the love of his life, as he called his partner of 25 years, David Mark Bender-Wishart, three times: Once in the spring of 2004, again in February 2008 and the most recent being a simple church service in the church his mother and father had married. That date was Dec. 21, 2014, which finally allowed John to have his relationship to his spouse federally recognized as family. Family was very important to John and he loved his family so very much.
John worked hard meeting and speaking to our political representatives to try and make the lives of other sexual minorities, future generations, better, safer and more secure. He endured hardships and threats of violence in these efforts. His naturally caring, sweet, "never a bad word," never demanding demeanor just may have helped change minds.
It's not enough to say John was an artisan. John was an artist. Together with his husband, John created many beautiful things that have touched and improved the lives of many people, many who became good friends.
Again, John loved to travel and was always ready for adventure fitting in anywhere. Early in his relationship with his husband David, when the company David worked for went bankrupt, David arrived home with a modest severance check. When asked what to do with this cash, without hesitation, John said, "Let's go buy a used VW bus and go to Baja for the winter"!
His talent and creativity and passion for travel merged and together with his partner, they worked abroad several winters in England and Wales.
John met his husband David the day he submitted an example of his furniture design to a prestigious art show and competition in Portland. He didn't win that juried competition, but they had placed a huge crystal bowl for the public to drop off their vote for favorite piece of the show. Hands down, John won over the people and the popular vote and that's who he was. Besides the appeal of his creations, people were simply drawn to John.
Even in his final days, when he was not completely conscious, John only had sweet thoughts to share. Conscious or not, this is who John Wishart was. In a moment of clarity, he asked to be taken around the Portland Veteran's hospital to say goodbye to all the many people who worked tirelessly to try and help him. It was difficult physically on him, but again, this is who John was.
He was overheard during one of his last phone conversations with his loving mother saying, "I've always known I have a happy spirit." No statement could be truer — this is who he was.
John is survived by his husband David Wishart and mother Camilla Wishart of Hood River, sister Sally Brown of Paisley, Fla., sister Susie Combs of Prairie City, Ore., and brother Jim Wishart of Boardman, Ore.
He was preceded in death by his grandparents, Frank and Jane Wishart and John and Jean Flesher, father Jim (James) Wishart, aunt and uncle Melba and Harry Wishart, cousin Mike Wishart, uncle John Linn and cousin Kyle Linn, and nephew Jesse High.
Saturday, Oct. 7 at 1 p.m., there will be a graveside service at Idlewilde Cemetery, 980 Tucker Road, Hood River. A reception at John's studio and home will follow at 1122 Tucker Road. All are welcome.
A special thank you to all those at the Portland VA Medical Center who loved and worked so tirelessly to serve not only John, but all our veterans in need. John was happiest to be there because he knew you were helping him fight, but also because he loved you back.
And thank you to Patrick Cornelius, a recent addition to our Gorge community, and Anderson's Tribute Center. Thank you for your genuine loving, caring guidance through this most difficult time.
Arrangements are under the direction of Anderson's Tribute Center (Funerals • Receptions • Cremations), 1401 Belmont Ave., Hood River. Visit www. AndersonsTributeCenter.com to leave a note of condolence for the family.

Services for John Paul Wishart
October 7, 2017

Graveside service: 1 p.m.
Idlewilde Cemetery, 980 Tucker Road, Hood River