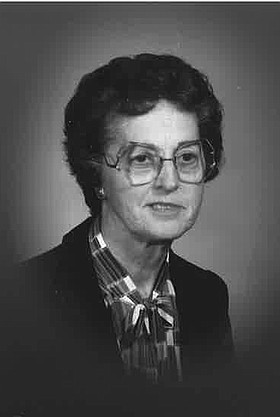 Frances Audra (Cody) Crown
Hood River, Ore.
June 19, 1928 - December 23, 2017
Frances Audra (Cody) Crown, age 89, died on Dec. 23, 2017, at Providence Brookside Manor Assisted Living in Hood River, Ore.
Frances was a native of Hood River, born on her parents' farm on Binns Hill in Oak Grove on June 19, 1928. Her parents were Audra Shelton Cody and Charles Samuel Cody. She was raised with three brothers, two half-brothers and two half-sisters. All of them shared in orchard chores, gardening, raising farm animals and picking fruit. Besides hard work, much fun was also had playing and exploring in the hills overlooking the Hood River Valley.
Frances attended Hood River High School, graduating in 1947. She was active in the Girls' Athletic Association.
She met the love of her life, Curtis Crown, at the ball park. After a short romance, they married March 19, 1948. They enjoyed playing cards, traveling (including a trip to Japan) to visit their sons and families, visiting friends and watching sports together.
Frances worked at Diamond Fruit Growers as a purchasing agent at the central office for over 30 years.
Frances shared many stories with friends and family of the good but difficult times the Cody family had as she grew up during the Depression. In recent years, it brought tears to her eyes when talking about her close friends of Japanese descent being relocated to internment camps at the beginning of World War II.
She loved her children and grandchildren. Her house was a display of pictures of her beloved grandchildren.
She is survived by sons Howard (Betsy) Crown of Marana, Arizona, and Michael (Lori) Crown of Reno, Nev., and grandchildren Michael, Collette, Billy, Austin and Collin.
Also surviving are her oldest brother, Jim (Sally) Cody of Ontario, Ore., sister-in-law Fran Cody of Hood River, brother-in-law Lloyd Crown of Hood River, sister-in-law Bonnie Crown of Hood River, and numerous nephews, nieces and cousins.
Her family is grateful for special caregiver Jayne Miller, neighbors Bruce Howard and the late Sally Donovan, and also her many friends who would share their time and companionship over the years.
She was preceded in death by her husband, parents, brothers Charles E. Cody, Glen Allen Cody, Charles M. (Bus) Cody, and Harry Round, sisters Genevieve Round and Clara Cody, and the many relatives of Curt Crown.
A celebration of life will be held Friday, Jan. 5 at 1 p.m. at Anderson's Tribute Center, Hood River. In lieu of flowers, donations may be made to the Alzheimer's Association.
Arrangements are under the direction of Anderson's Tribute Center (Funerals • Receptions • Cremations) 1401 Belmont Ave., Hood River. Visit www. AndersonsTributeCenter.com to leave a note of condolence for the family.