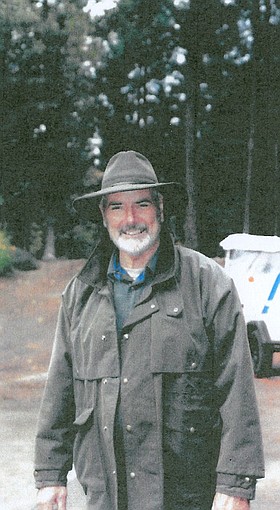 Bruce Curtis Harkness
Hood River, Ore.
January 27, 1934 - January 1, 2018
Bruce Curtis Harkness passed away at home, near Odell, on Jan. 1, 2018, after a long illness. He was 83 years old. Bruce had a serious, sensitive and thoughtful nature that many admired. He also had a sense of humor which would engage and bring people together. Bruce will be deeply missed by family and friends. He was a good man and our love and memories of him will live on.
Bruce was born on Jan. 27, 1934, in Englewood, N.J., to Jack and Helen Harkness. The family settled in Alameda, Calif., when he was very young. Bruce's father was an inventor and this is where Bruce formed some of his interests and a quest to learn new things, which followed him through his life.
Upon graduating from California State College in San Francisco, he received a B.S. degree in physical science. He enjoyed playing basketball on the college team and also during this time, he developed an interest in scuba diving, which, during his lifetime, took him to various exotic locations.
Bruce was an aviator with an interest in airplanes, which began as a boy growing up in Alameda. After college, Bruce enlisted into the Navy, where he attended flight officer training school, earning his wings, and during his enlistment, completed two aircraft carrier tours in the Pacific during the early 1960s. After his enlistment, his aviation skills led him into a professional career as an airline pilot.
Bruce was an avid reader with a broad knowledge in many subjects. He enjoyed home improvement projects and he had owned and operated an orchard in Odell, which are examples of his quest to learn new things. Some of Bruce's interests during his life included motorcycles, off-road vehicles, adventure and travels.
Bruce is survived by his wife, Jana Harkness and her daughter, Ramona; his three children, Roderick Harkness and his wife Stella, David Harkness and his wife Susan and their daughter, Melinda (Mindy), and Jennifer Harkness; his brother Richard Harkness; his nephews, Scott and Patrick; and his nieces, Deborah and Carol Anne. Bruce's sister, Mary Anne Wright, has passed away.
Donations may be made in his memory to your favorite charity organization.
Do not stand by my grave and weep.
I am not there, I do not sleep.
I am the invisible wind, strong or light, unknowable, ceaseless, or caressingly nice;
I am the sunlight's brilliant flare, a hard diamond glint on snow, with shining ice;
I am the promise, of ripening fields and silently moving yellow flowered grain;
I am hope, like the gentle, thankful, sound, of warm autumn's soothing rain;
I am the stars' mystery, and a force giving birds' uplifted, quiet soaring flight;
No journey in earth's travail meet mine, I move west with all embracing night;
I am becoming part of you, now, for sure, as love is certain, and all truth is right;
Enough of that circling, returning, then far, then near, a useless, restless, roaming;
With direction now, toward that peaceful shade, I go forth clear, into the silent gloaming;
We will travel together, one blood again, maintained by faith, and promises forever burning;
Commune with me, I'll give you rest; as day surely follows night we go on, there's no returning.
Do not stand by my graveside and cry,
I am not there, I did not die.
With all my love, from the bottom of my heart.
Your Wife,
Jana
~ See you on the other side~
Arrangements are under the direction of Anderson's Tribute Center (Funerals • Receptions • Cremations), 1401 Belmont Ave., Hood River. Visit www. AndersonsTributeCenter.com to leave a note of condolence for the family.