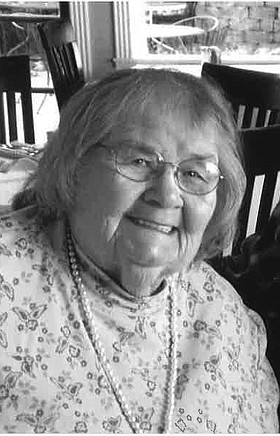 LaVonne Vivian Osburn Holmstrom
Hood River, Ore.
October 30, 1928 - December 15, 2017
LaVonne Vivian Osburn Holmstrom, 89, passed away peacefully on Dec. 15, 2017, at Providence Hood River Memorial Hospital. She was born on Oct. 30, 1928, in her grandmother's home near Dover, Okla., to Thomas and Gladys Osburn, the second of seven children. Her mother, nine months' pregnant, took the train from Andrix, Colo., to Dover to have LaVonne at her grandmother's place.
Back to Colorado, the young family etched out a meager living homesteading after her dad returned from World War I. The years of the "Dust Bowl" threatened the children's lives and her dad sold out and relocated near Nyssa, Ore., raising milk cows and pigs. She and her sisters helped take care of the milk cows and farm, and her dad worked sugar beets. Her mother rode horseback to teach school and help on the farms.
In her young days, LaVonne worked as a beautician. After her husband, Curt, was transferred to Hood River, Ore., in 1964 with the Oregon-Washington Phone Company — now CenturyLink — she worked seasonally for Diamond Fruit for 23 years. They have been Hood River residents for 53 years.
LaVonne enjoyed gardening. They were able to travel later in life. She loved her family, especially the grandkids and great-grandkids. She and Curt met at Sunnyside High School in Sunnyside, Wash., and graduated in 1947. She went to beauty school and married her high school sweetheart in November 1948. The two just celebrated 69 years of marriage.
LaVonne came from a long line of love "and was the salt of the earth." We will miss her very much.
She was preceded in death by her parents, Thomas and Gladys Osburn of Quincy, Wash., as well as siblings Delpha, Estelle, Shirley, and Scott. She is survived by her husband of 69 years, Curtis Holmstrom of Hood River, daughter Jan Nastasi-Harris of Hood River, son Gerald Holmstrom of Fair Oaks, Calif., son Randy Holmstrom (Anne) of Cascade Locks, Ore., daughter Sharon Muscheweck-Korhonen (Rick Korhonen) of The Dalles, Ore., seven grandchildren, eight great-grandchildren, and siblings Otis Osburn of Washington and Norma Graham of Montana.
Condolences can be sent to Anderson's Tribute Center, who was entrusted with arrangements. A special, heartfelt thank you to the Hood River First Responders and Providence Home Health for their dedicated care and service.