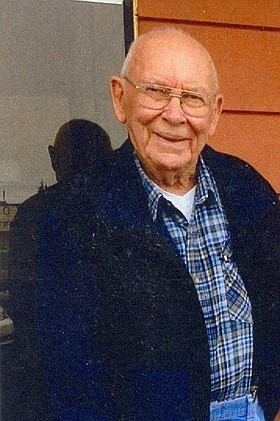 Kenneth Lee Burdick
Hood River, Ore.
February 2, 1922 - January 5, 2018
Kenneth Lee Burdick was born in Cold Spring, N.Y., on Feb. 2, 1922, and passed away at home in Hood River, Ore., on Jan. 5, 2018. He was 95 years young.
Ken is survived by his wife of 10 years, Eleanor Rice Burdick, and four of his five children: Elise Boucher (Darold), Stephen (Barbara), Jim (Carol), and Jeanne Kenlee, and Eleanor's children Christi Torres and Jesse (Rocky) Rice. His first wife, Mary Stephen Burdick, passed away on Oct. 22, 2007, after 65-plus years of marriage, and his second daughter, Carol Lee Dalrymple (Bob), passed away on Feb. 14, 2015. He had 12 grandchildren, 19 great-grandchildren, six step grandchildren and 10 step great-grandchildren.
During World War II, Ken served in the U.S. Marine Corps, was engaged in the recapture of six islands, was wounded and was one of two survivors from his platoon. He had been a farmer, dairyman, Marine Corp sergeant, line truck operator, a U.S. Border Patrol agent and an Immigration officer. He retired in 1980, after 30 years of government service, having served at nine scattered locations in the U.S., including Texas, California, Alaska and Michigan and two locations in the Bahama Islands.
His career was followed by more than 37 years of pure enjoyment, fishing and traveling via RVs through every state in the lower U.S.
Kenneth's ashes will be interned with a private ceremony at the St. Mary's Catholic Cemetery. Donations may be made to Heart of Hospice.
To his children, he was the best father who ever walked the earth.
Arrangements are under the direction of Anderson's Tribute Center (Funerals • Receptions • Cremations), 1401 Belmont Ave., Hood River. Visit www. Ander-sonsTributeCenter.com to leave a note of condolence for the family.