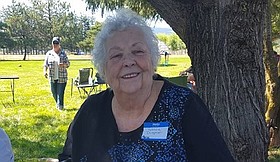 Patricia Robinson
July 2, 1939 - January 2, 2018
Patricia Marie Robison, aged 78, died peacefully on Jan. 2, 2018, at her home in Port Orchard, Wash. Patricia, or Patty as her friends and family called her, was born July 2, 1939, in Atchison, Kan., the daughter of Elton R. Muncie and Dorothy "Marie" Jones Muncie.
Patty grew up near Hood River, Ore., with her brother Daniel, where she thoroughly enjoyed athletics, dance and goofing off with her friends and many cousins. In high school, she served on student counsel and was active in band and the Girls Athletic Association. Patty graduated from Wy'east High School in 1957.
In 1958, Patty married her high school sweetheart, David R. Galligan. She soon settled into life as a military spouse, enjoying traveling and exploring the world with David and raising their two young children, John and Lisa. They divorced after moving to Port Orchard.
In 1976, Patty married her second love, Bob E. Robison. Together, they co-owned Port Orchard Carpets and Robison & Sons Construction and enjoyed 41 years together boating, traveling, camping, and spending time with their blended family.
In addition to spending time with her family, Patty enjoyed sewing, gardening, traveling in their RV, reading and trying new recipes. She was an excellent cook. She was also a member of Grace Bible Church in Port Orchard.
Patty was a strong woman, handling her struggles these past five years with lung disease and heart disease with grace and dignity.
Patty is survived by her husband Bob Robison; sons John and Bob Jr. and daughters Lisa, Lynn and Della. Patty's legacy includes eight grandchildren and six great-grandchildren.
There will be a celebration of life memorial service for friends and family members on Jan. 20 at 2 p.m. at Grace Bible Church in Port Orchard.