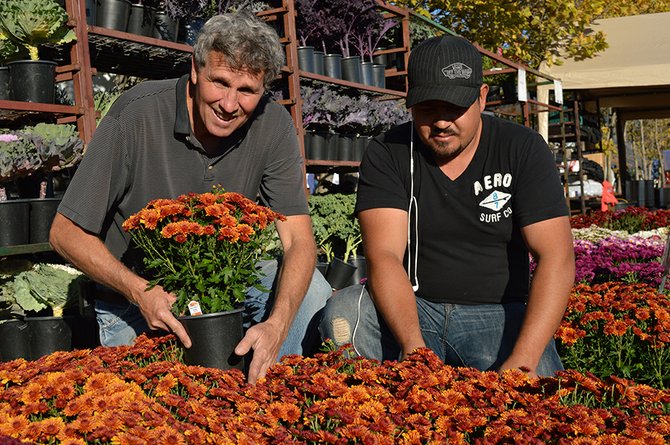 BOB LANDGREN, owner of the Vanguard Nursery in White Salmon, and Marcello Castañe-da crouch next to some colorful mums Friday. Landgren said buyers could pick between 40 different varieties of mums as well as 26 varieties of kale and cabbage at his Harvest Fest stand. Like his mums, Landgren is a perennial presence at Har-vest Fest and he said he hasn't missed one since the event began over 30 years ago. Though he has seen plenty of fair-weather Harvest Fests in the past, Landgren thought this year's event might have been one of the nicest ones he's at-tended and said he "didn't re-member being in a T-shirt" ever before.
Stories this photo appears in:

Folks enjoy pumpkins, choose fruit from overflowing bins, and munch on pies throughout a sun-drenched Hood River valley autumn weekend
Large crowds of people having fun.